When you're diagnosed with cancer it's a massive blow and can take a while to process so looking for a wig is probably pretty low on many peoples list of priorities but the advice given to me, which I would definitely echo is to start your wig search as soon as possible and definitely before you start treatment if at all possible.  By doing this it means you can have the search done before you need to start dealing with the side effects of treatment but it also helps them to see your hair/hairstyle in the store to enable them to recommend a good match if you're not opting for a total image change. There are so many different options available, from synthetic to human hair or a mix of both in all styles and colours.  When looking, consider what will suit you and your lifestyle and budget best.  If you are a medical card holder you are entitled to an allowance towards a wig or if you have health insurance many providers offer cover for wigs (I was very lucky with my cover as both my wig and hair piece were covered).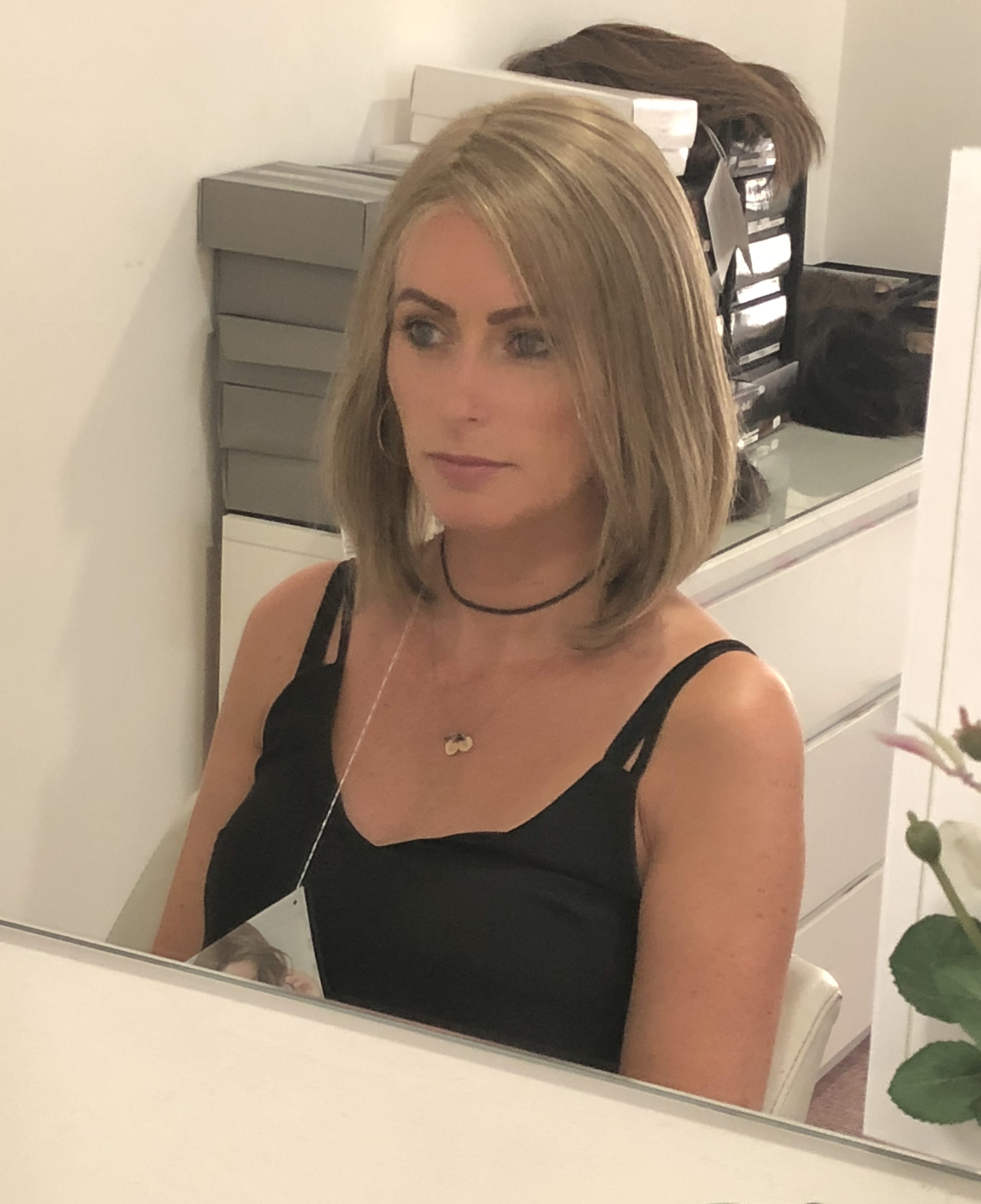 The synthetic wigs are the easiest to care for but cannot be styled.  The human hair options can be blow-dried, curled, straightened and styled like your own hair but take a little more looking after and are more expensive and the mix can be styled a little (just no major heat so not straighteners or curling tongs).  It's also important to consider how long the wig will last.  Take your time with your wig search and don't be afraid to ask loads of questions and shop around until you find the right one for you.
Cancer support centres will have a list of local wig suppliers but I just did a google search which brought up stores near me with reviewer ratings.  Based on this and other recommendations I received I narrowed my search down to 3 stores (I only made it to two in the end though).  I first tried the Hair Club in Donnybrook who have a great selection of wigs and accessories.  Being totally honest, my first visit here wasn't a very pleasant one.  This surprised me because I had been here previously with mum as this is where she got her wig.  One of us may just have been having an off day but for some reason that I can't quiet put my finger on I felt an impatient vibe – as if I was being awkward wanting to try a few different styles and not finding what I was looking for during my appointment which made me upset.  I have been back since to buy a hair piece and had a better experience so I would still recommend them for their range if nothing else.
The second store I visited was Snips (which was on Middle Abbey street but has since moved to the Beacon in Sandyford).  My experience here was totally different – Laura runs the shop and has had personal experience of hair loss and wearing a wig so is very understanding and so friendly, helpful and kind and she made the experience so pleasant.  Laura understood what I was looking for and ordered in some additional pieces she thought would suit.  I would highly recommend taking a visit to Snips and I found Laura amazing.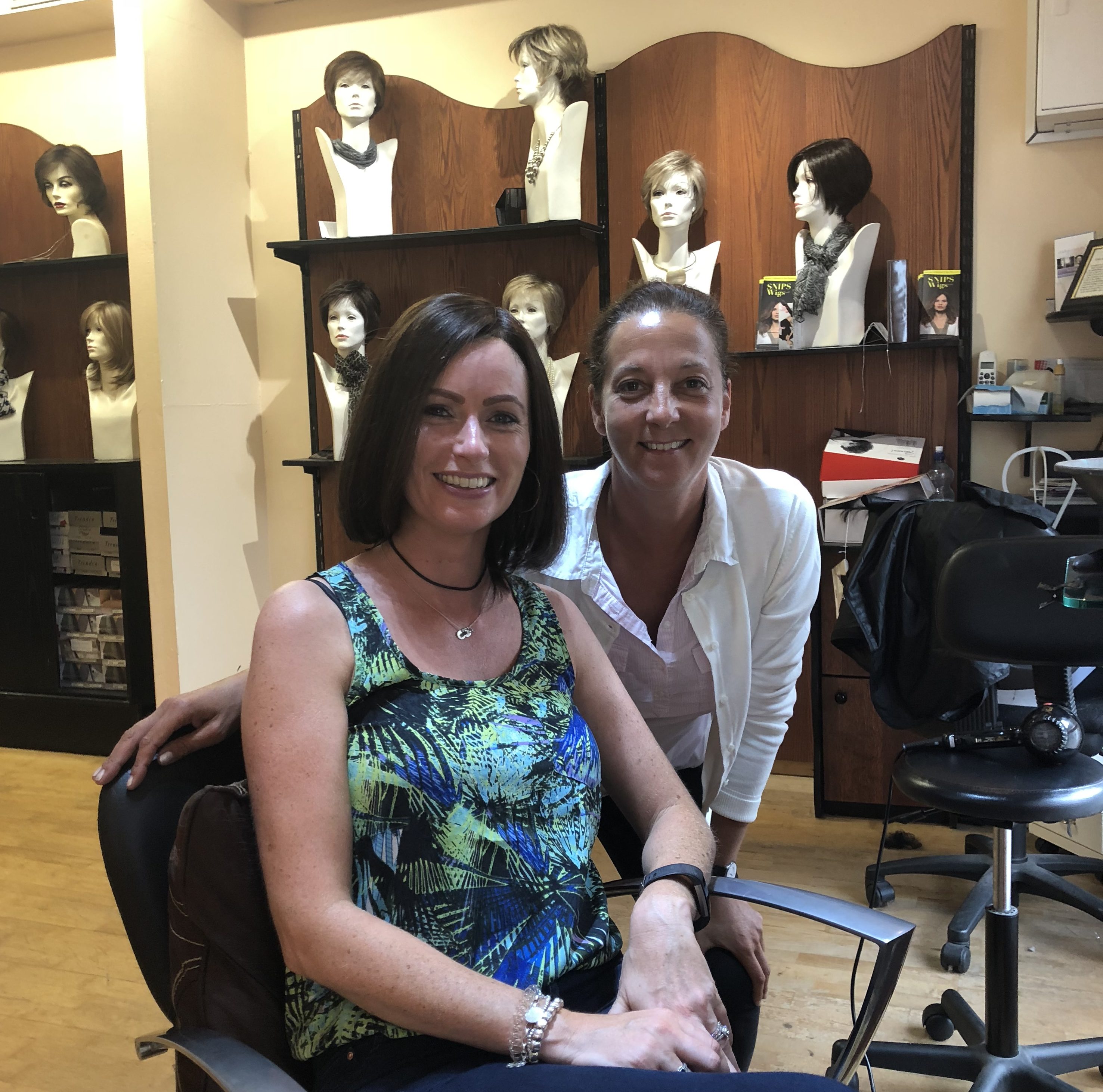 The third store I had on my list which I know is very popular is Roches, however I had already found a wig in Snips so didn't look any further.  In hindsight I probably should have had a look anyway – just to be sure and would recommend having a look in a few stores so you are 100% confident you have chosen the right Wig for you.
If you are opting for the cold cap I would recommend still going and looking at wigs and hair pieces but don't rush into buying one.  I bought one which I have never used.  I will hang on to it for a little longer until I get the all clear (just to be sure!) and will probably donate it.  Some shops will hold a wig for you if you select one that you like so it's there for you if and when you need it.  Many people using the cold cap won't need any form of head cover but I have felt like I needed a little extra coverage the last few weeks.  A hair piece was a better option for me as it gives me the coverage without having to wear a full wig (it just sits on top of my own hair).
Whether you go au natural, opt for a scarf, a wig or a hair piece it will all take a little getting used to.  I remember the day I bought my wig and wore it home, I felt everyone was looking at me and knew I was wearing a wig.  I still feel the same with the hair piece but the truth is, no matter how odd we feel ourselves, people are too consumed with their own thoughts to bat an eye and the paranoia is mostly in our heads.  I've also noticed when I see others with wigs on /trying on wigs I've thought they look amazing on them but looked desperate on me and likewise I've seen some women rocking gorgeous scarves which I felt I could never carry off.  So I think we need to try our best to be kinder to ourselves and rock whichever look we opt for with confidence while remembering how fabulous we are (wink emoji!)!!!!