I'm now 3 days post my 4th chemo session.  My consultant has warned me that these next few sessions might hit me a little harder so I might need to take it easy.  As after my other sessions I am feeling lethargic and dehydrated with a constant hungry but slight queasy feeling at the moment (dangerous junk food territory!).  Everything takes a little extra effort but beside that it's all good so far and I'm taking each day as it comes and continuing as normal as possible.  The few weeks since my last session have flown by. The bone pain and bad nausea stayed away again which was great, so really trying to get rid of a head cold was my biggest complaint.   It feels like it's been a busy few weeks and luckily I've been feeling well enough to keep active and do the things I want to do although I haven't been planning any big party nights out!!
Alec's first day of school went really well.  I had a little nausea on the morning and wasn't feeling 100% but it was nothing that effected the excitement of the morning so I was delighted that both Adrian and myself were able to bring him to school and collect him.  We all did really well and there were no tears (Adrian and myself were very proud of ourselves!) My little boy seems to have grown up so much in just a week (he told me when I picked him up from school that he was a big boy now and didn't need to hold my hand anymore!!) Emmmm, excuse me Mr! It is way too soon for that carry on!!! So I told him he still had to hold my hand because Mammy still needs him to mind her!! He thankfully obliged – for now!
Adrian took the boys up north for the weekend to Grandad Martins so they headed off for their boys weekend in the afternoon after Alec finished his 1st day in school.  It was a bit hectic getting them all sorted and out the door and I was wrecked after the excitement of the morning so part of me was glad to see them go so I could sit down and relax for a little but I also knew I was going to miss the little blighters – mammy time is always so bitter sweet and tinged with a little guilt!!  Mum came up to keep me company for the weekend just incase I got too lonely.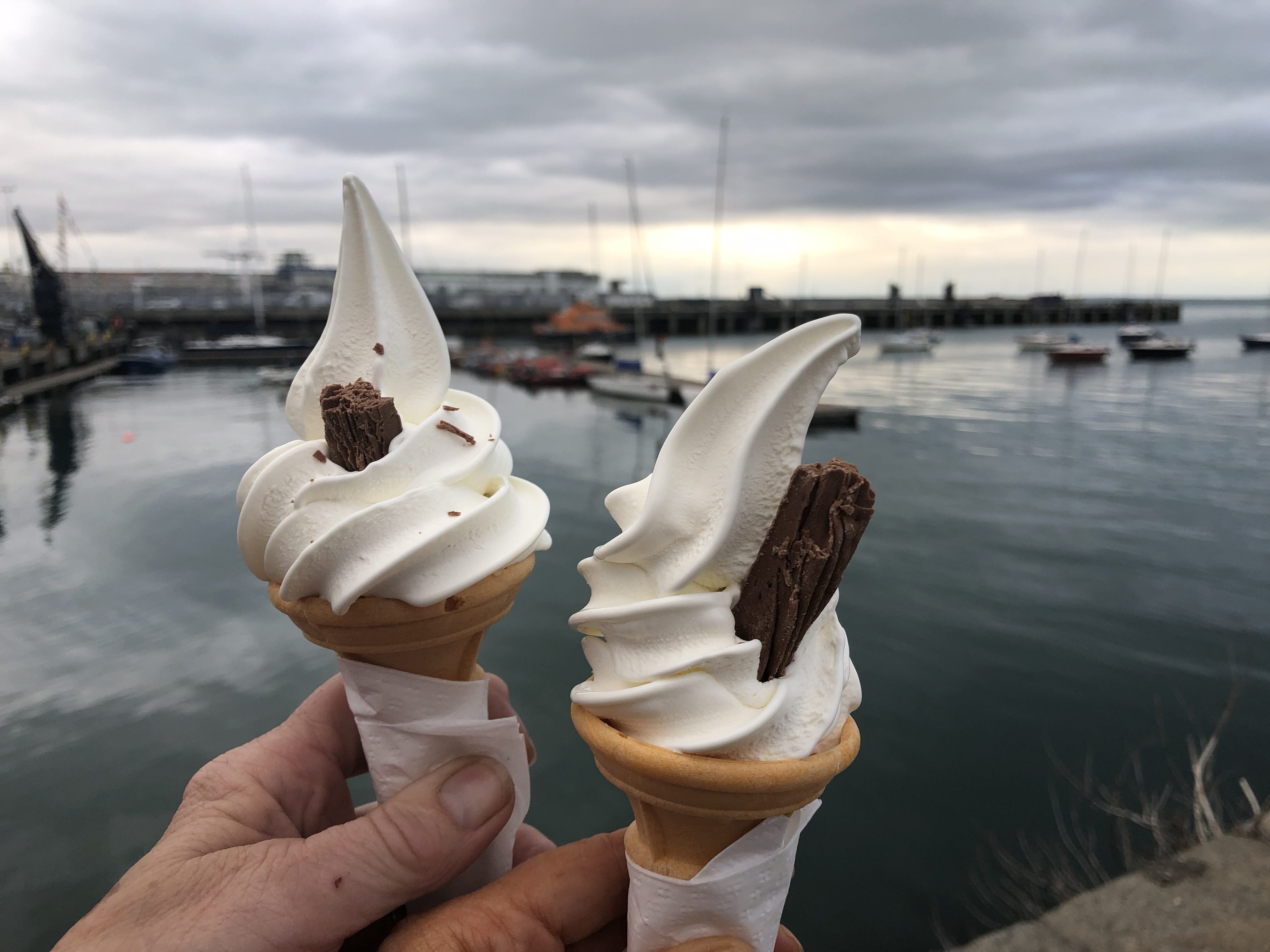 We had a lovely relaxing weekend and it was just what the doctor ordered! The weather was on our sides and we did lots of reading in the garden and a couple of walks.  I was glad that I was feeling well enough to go out for a bite to eat on Saturday evening (followed by Teddies Ice-cream and walk on Dun Laoghaire Pier afterwards).  We managed Fish and Chips and more Ice-cream on the Pier the following day before mum headed home. Thanks Mum!
My brother had his birthday 2 weeks ago (I'd slag him over his age only he's a year and a half younger than me, so he's still only a young one, lol).  We all headed down home to Thurles for it.  We just stayed in and had a lovely meal and a few drinks.  It was the first time in a while that we had all been home together so it was lovely but I did feel tired after it.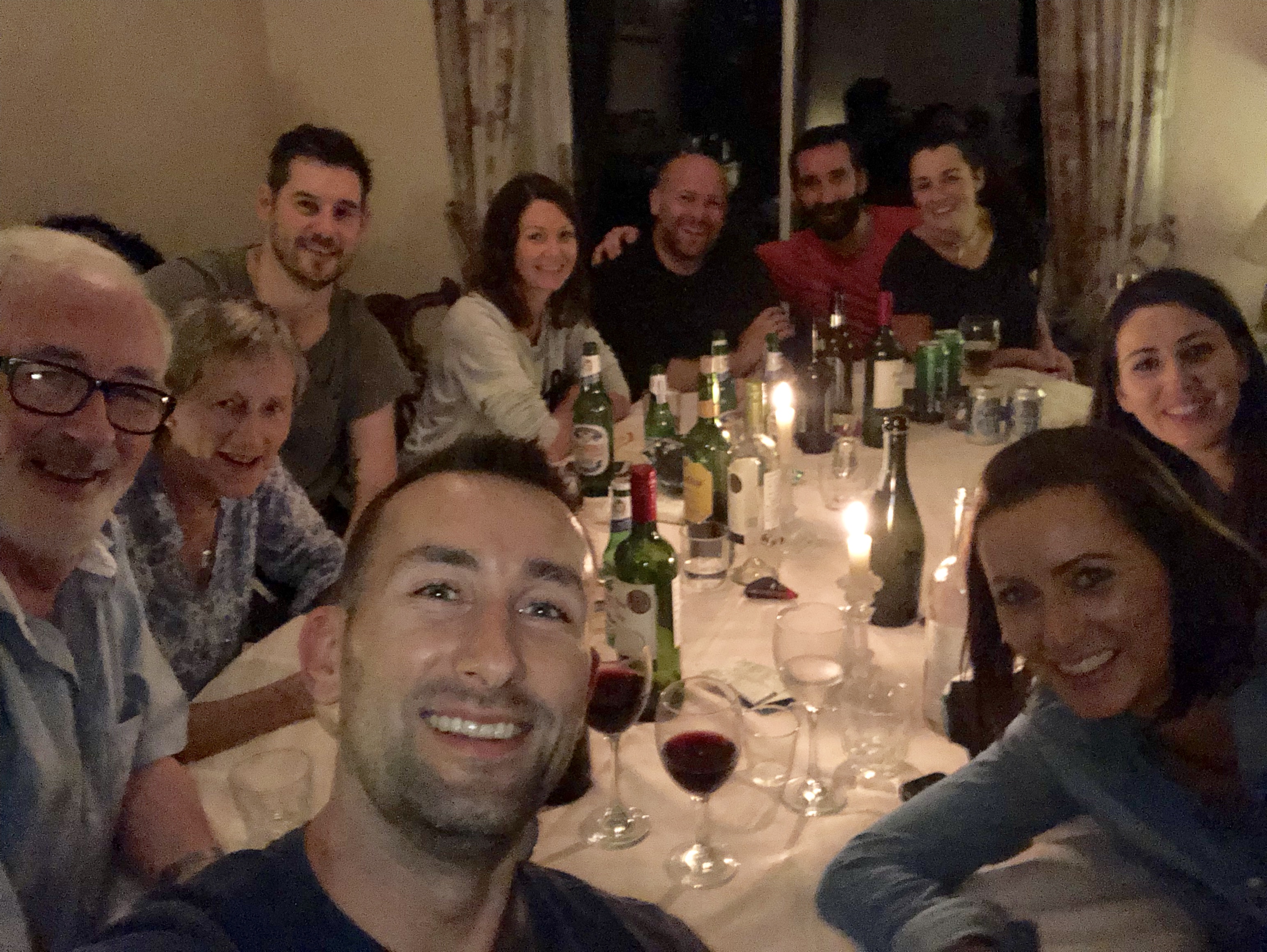 I hit a bit of a brick wall last Friday.  Adrian and I had been shopping getting some clothes for the boys.  We grabbed a sandwich in a cafe for lunch and Adrian asked if I was ok because I seemed tired.  I felt fine and thought he was over reacting – all I had done was sit back and relax in my seat.  As we sat there though I did start to feel a little off (a slight queasiness and tired).  This took me by surprise because week 3 is supposed to be my good week when I'm feeling back to normal but in hindsight I might have overdone it a bit in an attempt to fit as much in as I could in while I was feeling well.
I had been due to attend my friends Hen party at the weekend.  I had been really hopeful that I'd be able to make it when I realised the date fell at the end of my 3rd week and I knew I should be feeling fine but after the few quiet drinks at home the previous week for my brothers birthday I knew that even if I was sensible and took it easy it would still take it out of me.  On a weekend when I was due to be hydrating before my next session a hen party probably wasn't the most sensible option (especially with that mad party crowd!!).  I hated missing the fun and not being there to help Jo celebrate, especially when I won't make the big day because of how my treatment dates fall but I'm sure we'll use it as an excuse to get together to celebrate again soon!!  It helped a little to know I had made the right decision when the tiredness kicked in on Friday evening but it's still crap knowing I missed a great weekend!
The tiredness on Friday probably wasn't helped by the fact that Aaron (our youngest) had an unsettled few nights last week.  Adrian was up with him but I'm such a light sleeper, so that coupled by my own sleep issues meant my sleep was very broken.  Probably spurred on by the lack of sleep but last week was one of those testing ones all parents experience from time to time!  Let's just say we might need to replace the bottom step on our stairs soon if it continues to get this much use! By Saturday morning, if I wasn't trying to be so careful to hang onto my hair I definitely would have been pulling a few more out and I'd say Adrian gained a few more grey hairs – it was lining up to be one of those days where you wonder if it would be totally unacceptable to open a bottle of wine at 10am!!! (We didn't of course!!!)
So it was perfect timing for my brother and his partner to offer to take the boys for a night!  The boys had a fun packed 24 hours with their Uncle and Auntie,  Mammy and Daddy managed a wild night out (Early bird, 2 drinks and tucked up on the couch by 8pm!!!).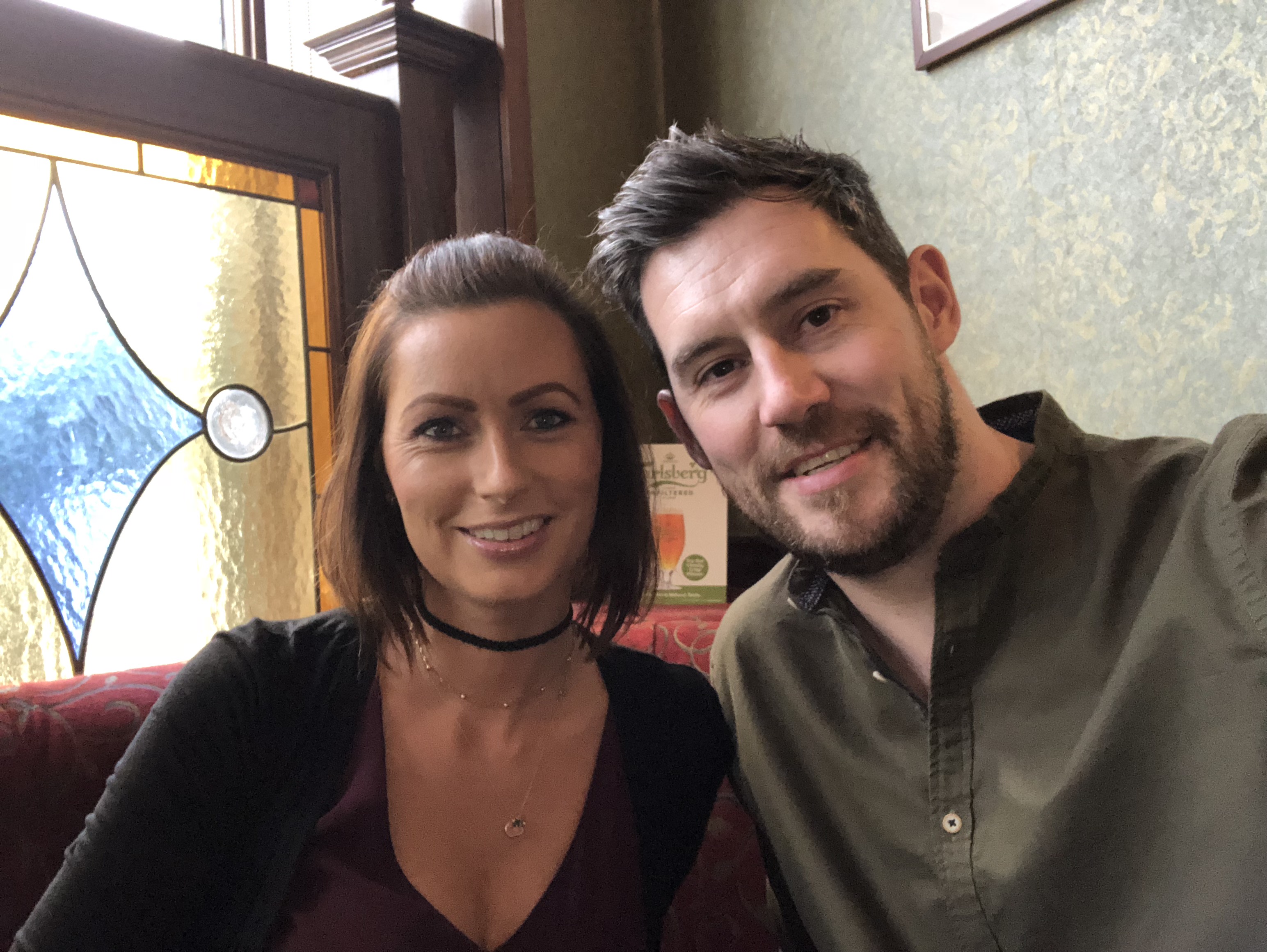 The next day, feeling slightly more refreshed, we were ready to pick up our "angels" and enjoy hugs and kisses after missing the little monsters!!The picture below shows them having great fun having a formula one race courtesy of YouTube POV (Point of View) and some very creative props!! Thank you Uncle Mikey and Auntie Leanne!!!!
Exercise is really important to me at the moment, especially when the first two weeks after treatment feel like that hungry stage of coming around from a hangover when all you want is to stuff your face with comfort and junk food!!!! I've managed to keep up my walks.  The running has unfortunately taken a back seat for now but I think that's more in my head as I had let it slip before my diagnosis and haven't been able to motivate myself to get back into it properly at the moment.  In the meantime I've been doing loads of hills and steps to get the heart rate going! I've also started Yoga and Pilates in my local gym and really enjoying both.
My sleep still isn't great, it has generally improved a little, although last night was one of my worst nights in a while.  I bought a new herbal tea which was recommended by one of the Oncology nurses "Niks Tea, Irish Brew: Bedtime Kiss", drank that, put the phone away, went to bed early, read for a while and did my Headspace sleep mindfulness but I could just feel the restlessness brewing and knew it wasn't going to be a good night.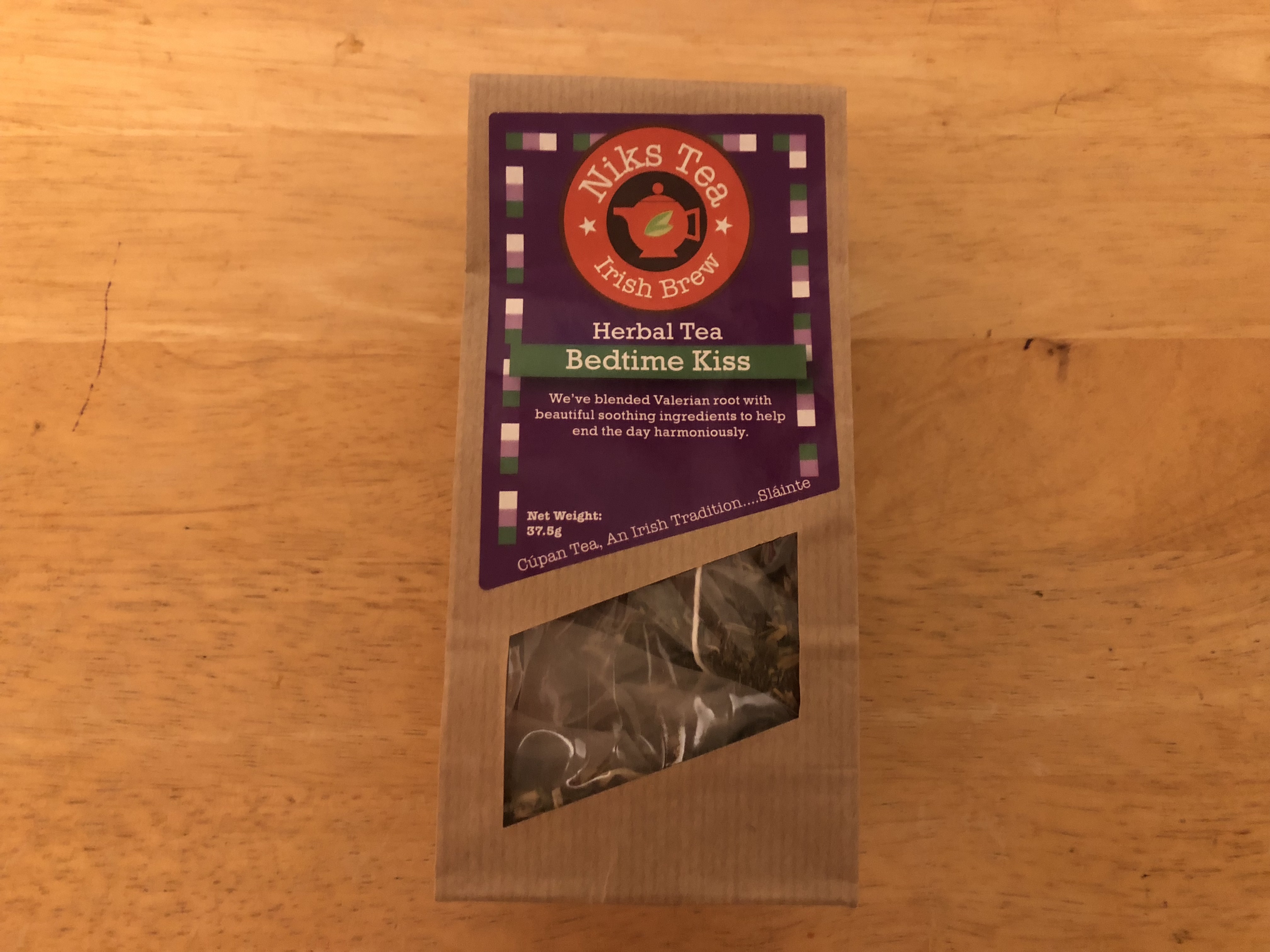 Being honest though I haven't been great at keeping up my Headspace sleep mindfulness practice but have set it as one of my goals for the next few weeks to try and dedicate some time to it.  I had another App recommendation to me "Insight Timer".  Unlike Headspace which has a monthly fee, Insight Timer has no charge and is the number 1 free meditation with 10,000 meditations from top British meditation teachers.  I haven't used it yet but think it's definitely worth a try.   I am also planning on giving acupuncture a try and have scheduled an appointment through Purple House Cancer support centre in Bray for a few weeks' time.  Fingers crossed for some more zzzzzs.
I have already said I want to take any positives I can from this experience – one very superficial one for me is that I have finally treated myself to a new set of eyebrows!!! Due to over plucking over the years my eyebrows are a far cry from the bushy brows I sported when I was 15 so I've wanted to get Microblading (a form of semi-permanent tattooing) done for a good while to save 10- 15mins every time I do my makeup but with crèche fees and a mortgage it was a luxury I couldn't really justify.  So, once I was diagnosed and found out I would need Chemotherapy I decided sod it -I deserved it and was going to get it done.
I've mentioned in one of my earlier posts how besides a couple of tears after my biopsy I really haven't gotten upset over my diagnosis.  I did however ball my eyes out when I found out I had left it too late to get Microblading done on my eyebrows.  Tell me I have cancer – no problem (well not quite, but I was prepared for and accepted my diagnosis), tell me I can't get my eyebrows done – I have an emotional meltdown!!, it just hadn't dawned on me that it wouldn't be an option.  As it turns out Microblading breaks the skin and cannot be done if you are about to start treatment in the following 5 weeks due to a slower ability to heal & an increased risk of infection.
I did however recently find out about emBrowdery which is a less invasive option which does not break the skin and can be done during treatment (with a letter from your consultant) – so light at the end of the tunnel, I now have an option which will help me maintain the illusion of my eyebrows when I lose them due to the chemotherapy.  The following link is to a blog with more information on both and my experience with my first emBrowdery session: "Microblading and emBrowdery".
I'm missing a lot in work at the moment so have been trying to do what I can to keep myself challenged while I'm off, so in the last week I have attended a my 3rd day on an Emotional Intelligence course, a Masterclass on Resilience and I have been able to link into a Leadership Masterclass in work via live streaming. I got my college results & was delighted with them so am now a qualified Personal, Leadership and Executive coach (if anyone would like some coaching!!).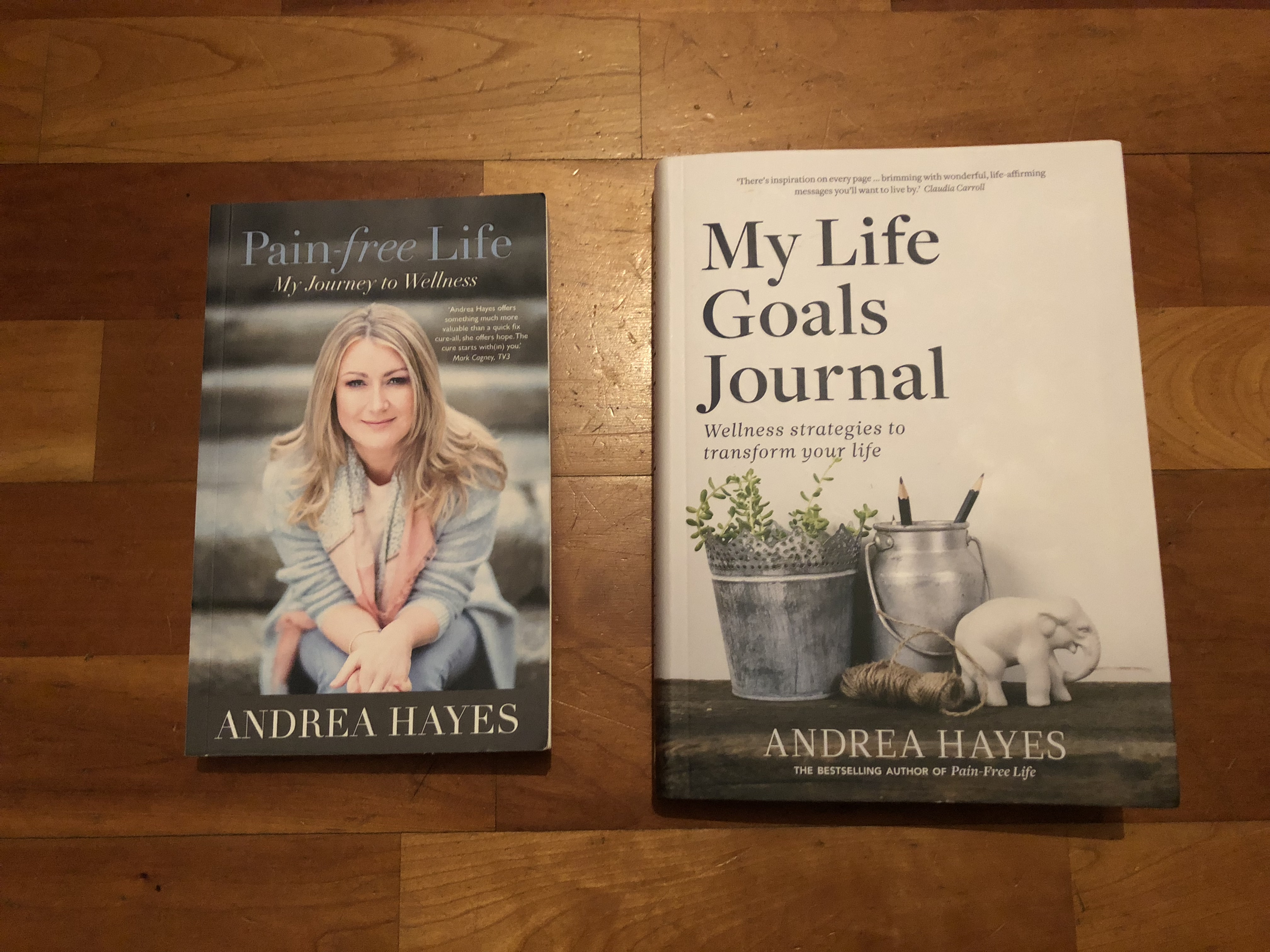 I have decided to delve a bit deeper into the wellbeing side of things and am planning on doing a Diploma in Mental Health and Wellbeing Coaching while I am off.  I've just finished reading an inspirational book by Andrea Hayes http://www.andreahayes.ie/ about her battle with chronic pain and her wellness and daily management of her illness.  I am about start another book of hers "My life Goals Journal" which is filled with practical wellness strategies to help you identify your goals from journaling, diet, exercise, mindfulness and sleep.  The book provides space for monthly journaling and helpful exercises and some great inspirational quotes to help keep you motivated along the way! Some good ones for anyone who is struggling or having a crap day:
"I don't have to take this day all at once, one breath at a time, one moment at a time, one minute at a time"
"You don't have to see the whole staircase, just take the first step" (Martin Luther King, Jr)
"A problem shared is a problem halved"
"Turn your wounds into wisdom.  You don't become what you want, you become what you believe" (Oprah)
"If my mind can conceive it, and my heart can believe it – then I can achieve it" (Muhammad Ali)