Microblading
Microblading is a semi-permanent tattooing technique that creates hair like strokes to fill in sparse or thinning brows. Microblading can also be referred to as Phi Brows or eyebrow embroidery (not to be confused with emBrowdery below!).  Microblading, unlike tattooing, is not in the deep layer of the skin, but more on the surface.   It aims to give you an effortless full brow by creating natural looking strokes much like original hairs.  Using a microblade, the colour is implanted into the superficial dermis of your skin.  The microblade has a row of tiny blades enabling the specialist to make bespoke, detailed hair strokes that look like normal eyebrow hairs.   An anaesthetic is applied before and during the treatment to decrease any pain or discomfort.
The first session will take about 2 hours and consultants will spend time discussion the shape and colour you would like.  Your average person will need about two sessions – one first session, and then a top up four weeks later.  The top up session will be shorter and take about 1 hour.  The pigment will fade after the 1st session so this second session is used to add further strokes and add a darker pigment if required.
Microblading lasts between 12 -18 months but this will depend on your skin type.  People with slightly more oily skin tend to last around 12 months before needing a top up, but those with normal skin can last up to 18 months.  Your brows will eventually fade away if you don't continue with top ups and salons I have been in contact with would recommend a top up every 12 months for best results.
I would say the number one thing to do if you're thinking of getting Microblading done is to do your research and be sure to choose somewhere reputable that you can trust.  When I was doing my research I came across @Julie Davis Permanent Eyebrows Wicklow who is based in Studio LR, Kilcoole. Julie's clients before and after pictures on her Facebook page look amazing and the reviews are excellent, plus with the added bonus that her rates were slightly cheaper than a couple of other places I had checked out.  For these reasons I had chosen Julie Davis Permanent Eyebrows Wicklow to get my eyebrows done – that is until I discovered I had left it too close to my treatment.  I was ragging I didn't call and get them done sooner but no point dwelling on that now! Julie is trained in CIDESCO level skin care, has been a tutor of Anatomy and Physiology of skin for 14 years and holds qualifications in skin and diseases and disorders so health and safety comes first for her. Julie was great and sent me on some detailed information on the reason you shouldn't get Microblading done during Chemo, although as she explains herself, this will vary from one salon to another, see below:
"Regarding Microblading for Cancer patients, there is very little regulation in Ireland, so no hard fast rules.  Training courses in Ireland are mainly in-house accredited, with no examining body overseeing course content, training and assessment. Therefore, many of the SPMU (Semi Permanent Makeup Artists) in Ireland lack in a deep understanding of the skin and it's healing. Every SPMU artist will have their own view on working with clients prior to and during Chemotherapy.  
I would never take the risk of causing trauma or scarring to the skin during Microblading, or heighten the risk of infection.  This is why personally, I would never Microblade the skin within 5 weeks of Chemo and for 6 months after.  The skin is constantly regenerating itself, and regeneration of the outer layer (the Epidermis) takes approximately 4 weeks.  So when the skin is cut with a Microblade, or anything else, it can take a full 4 weeks before it is healed.  As we age, the process of regeneration slows down, so healing can take 5 – 6 weeks.  (That's why the best thing you can do for aged skin is to exfoliate, to encourage the renewal process to speed up, bringing fresh new skin to the surface!)
It's not only our skin that's constantly regenerating itself, our whole body is. All of our cells in our body are constantly dividing, to make new cells, and the older ones are then destroyed.  Sometimes during cell division, the cells mutate. It's normally not an issue, as the body can recognise it, and kill of the mutated cells. But sometimes, the body doesn't notice the mutations, or does notice, but can't do anything about it.  In this case, the mutated cells are free to rapidly divide and multiply, and this is what we call 'Cancer'.
Chemotherapy is introduced to attack these fast growing cells.  Unfortunately, Chemo doesn't differentiate between our 'bad' fast growing cells, and our 'good' fast growing cells – ie our skin, hair and nails.  So it attacks these too.  The result is that our hair can fall out, our nails become weak and our skin regenerates a lot more slowly, it's protective barrier has broken down and is more open to infection.
 As our skin regenerates more slowly during this time, any wounds will take longer to heal.  This, along with the reduction in our White Blood Cells, can leave the area open to infection, and slower healing.  The available WBC (white blood cells) of the body are needed elsewhere for healing during this time.
After Chemotherapy, it takes a long time for the skin to return to it's original state.  I don't recommend Microblading for up to 6 months after Chemo".  
emBrowdery
I contacted Up to My Eyes in Greystones, Co Wicklow 2 weeks ago to check their policy in relation to Microblading during chemotherapy and it was only then that I discovered they offer alternative option – emBrowdery which is suitable to have done during chemotherapy.
emBrowdery was introduced to Ireland in 2013 by Up To My Eyes.  Like Microblading, emBrowdery aims to create realistic hairs in your brows to create the perfect shape for your face. However, there is no cutting of the skin with Embrowdery.  It is based on the fact that when you pluck or thread your eyebrows you create tiny holes in the skin but there is no scaring or scabbing so it is the most natural form – hence why it is safe to do during treatment. emBrowdery is a method whereby fine strokes are penetrated into the skin for a hair-like finish. The appearance is natural, subtle and blends with or without hair along the brow bone.
EmBrowdery technicians use a manual hand tool and a set of several fine needles to dip into a pigment and then apply to the skin.  The tool is lightly placed on the surface of the skin and gently moved forward and up to flow pigment into the skin. Individual hairs are drawn on.  The colour only penetrates the very top layer of the epidermis.  The procedure is virtually painless and is more like plucking or threading. The side effects are just a little redness around the area which fades after a few hours.
Within a week of your first treatment the colour will fade significantly and over the next four weeks it can continue to fade as much as 30-50%.  This is because the pigment is being "carried" by your body from the top layer to the bottom layer of your epidermis.  This means you have the option to adapt your shape and colour in between sessions.
After a month the second phase of emBrowdery is carried out, the colour will fade again after his session but to a much lesser degree.  Another month later the final session is carried out.  At this stage your eyebrows become semi-permanent. I was advised my eyebrows should last 12 months but this will vary between clients due to differences in skin types for some they may only last 6 months.  This is a risk I'm willing to take at the moment but I'm keeping my fingers crossed for 12 months and I always have the option to change to Microblading for my top ups further down the line.
My emBrowdery experience (so far!)
Cringing over these up close photos!!

It's only been a day since my appointment so this is just the starting point but I will do a post update after each session to show the progress and final results!!  Jurgita looked after me yesterday and I have to say she was just lovely, so nice and professional and really took time and care when doing my eyebrows.  There is a consultation beforehand which takes up to an hour and then the emBrowdery itself takes about another hour.  Mine ended up taking about 90minutes, but it was nice to know Jurgita was taking the time needed rather than rushing and trying to fit it into to a time slot.  It wasn't a painful process – a bit of stinging at the most.  There is a little after care for the next few days but nothing major – I need to avoid getting water on my eyebrows and have a cream to rub into them 3-4 times a day for the next 5 days. I am happy with the results, I do think the hair strokes look natural and considering how little was there beforehand I think it's amazing that I now have full brows.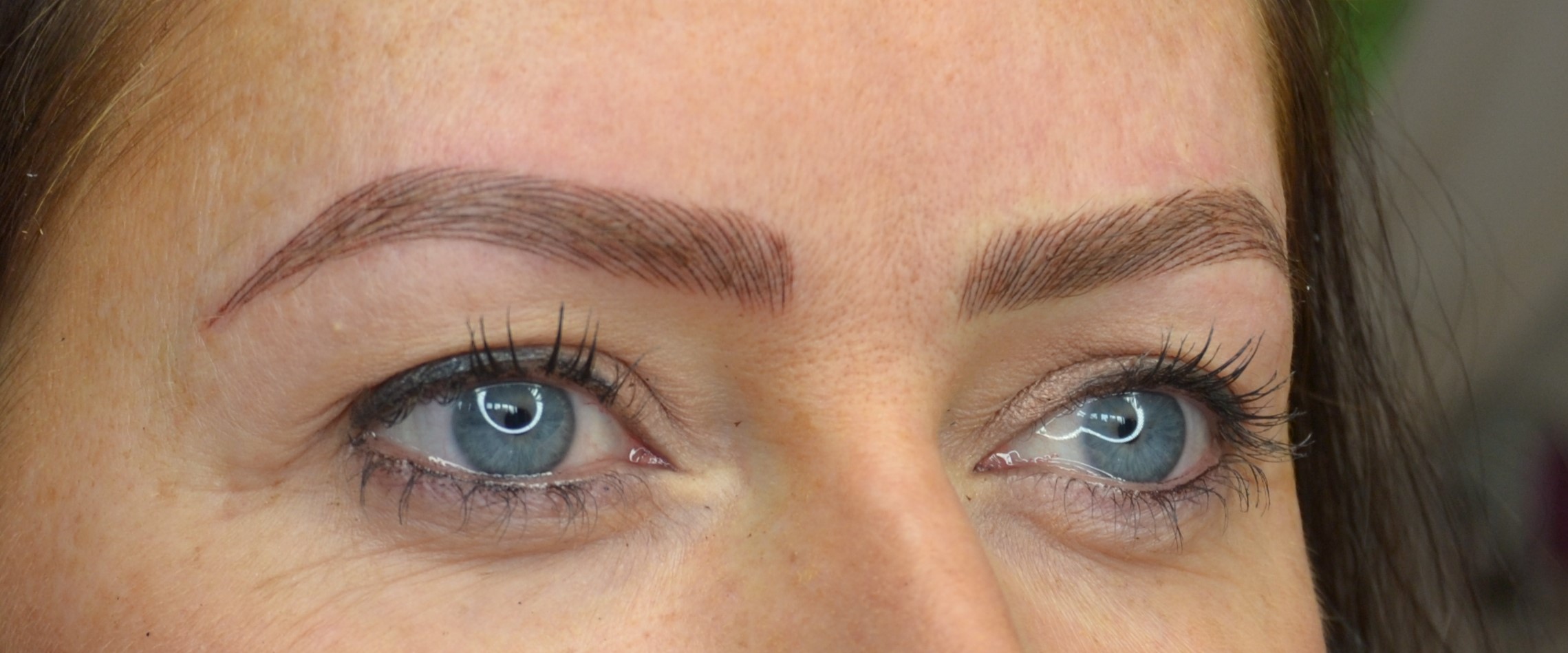 I'm still trying to decide whether I will change the shape a bit or not but the beauty is that I have the option to do that if I want.  It's been a long time since I've had eyebrows without my makeup on so it looked very strange when I took my makeup off last night so that will take a bit of getting used to.  It has definitely cut down on my makeup application time though which is always a bonus! Fingers crossed for a happy final result!!