Day 1 Girls day out
I had arranged a girls day with mum and Maria (my sister) before I knew my chemo start date, it was supposed to be an excuse to get dolled up and drink lots of prosecco before I started my treatment. As with the best made plans it didn't work out that way – after weeks of waiting my 1st chemo session ended up being the day before our day out. Chemo session or not I still wanted my girl's day so we went ahead with our plans.
This was my first test without my hairdryer and surprisingly it actually wasn't too bad! (Don't worry, my trusty hairdryer hasn't been totally abandoned – I still use it to give my clothes a quick "iron" – I hate ironing!) I have to admit I cheated a little and put a little bit of leave in conditioner into the ends to try and tame the frizz. The conditioner I used was from the Moo Goo, an Australian company who pride themselves on their natural products.
I haven't used it since as I want to check with the nurses on my next visit to ensure using it isn't putting extra pressure on the roots of my hair so will do a blog on it once I find out – (I just saw on their website they also do a gradual tanning cream which I am really interested in checking out!)
We had a lovely day shopping, some lunch in the sunshine (I had my factor 50 and sun hat on), we looked at a wig I was thinking of getting (more on that in my wig blog coming soon) and my sister and myself went for dinner and a cocktail later – so it is fair to say that day 1 post chemo was a good one.
Day 2 – Injection time
Day 2 started with an injection. This is self-administered within 48 hours of each chemo session to increase the white blood cells. A nurse normally contacts you to arrange a time to call to your home to show you what to do the 1st time round but you're on your own from there. I didn't hear from the nurse but luckily my mum was there (she used be a nurse) so stepped in.
I'm not a fan of needles and was expecting an epipen type needle (i.e. no needle in sight) so when I took the lid off and saw a nice long needle it took me off guard and I had a bit of an "oh sh*t" moment! The injection itself was fine, I just don't like the idea of them. Adrian has said he'll do it next time so I'm hoping he's not going to take advantage of the opportunity to use it as revenge for any times I've been a moody cow (very very rare occurrence!)
The injection can cause bone pain so the nurses told me to take Nuerofen plus an hour beforehand and for a few days after to help with the pain.
My brother and sister in law took the two boys down to Cork for a little holiday for the week which was a godsend in the first week. They had a ball and we had some time to just see how I'd get on without those few "mad hours" in the evening from dinner to bedtime!
Day 3 – "I'm fine"
Monday started well, I went for a lovely walk up around Killiney Hill for nearly 2 hours. I just love it up there and find it a great place for a bit of exercise and also for some head space, just relaxing enjoying the view. Later that evening I started to feel really irritable and tired. I really hated that feeling. I was disappointed that I was feeling tired already – I thought I'd be fine for another few days, in hindsight I probably over did it a bit in the first few days.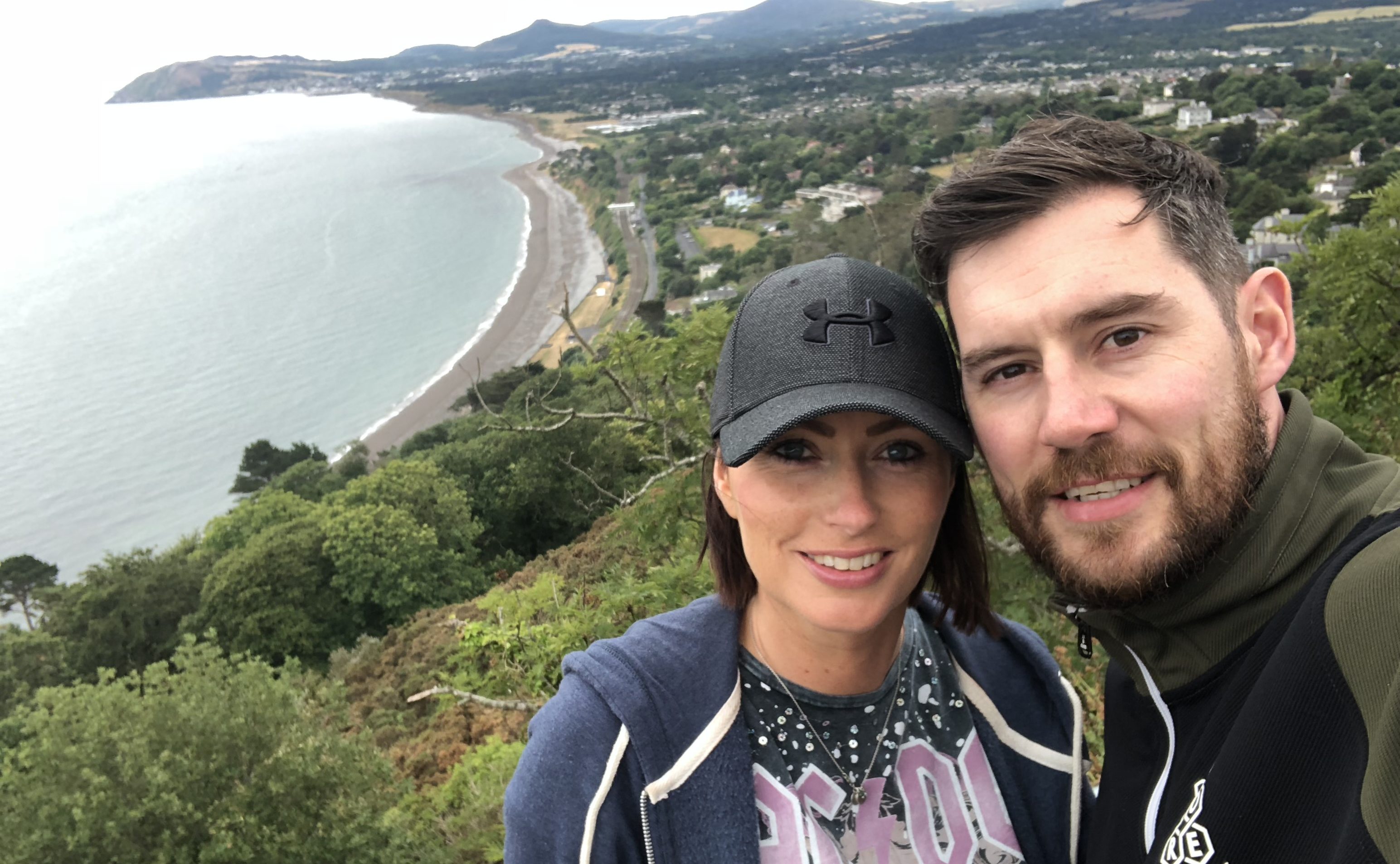 Adrian wanted to do what he could to be there for me and help me, but when you're feeling tired having to reassure someone you are "fine" every few minutes can be exhausting. It's so important to remember that this is hard on those around us aswell, they can feel so helpless. This was a learning curve for both of us. We agreed that Adrian didn't need to check on me every minute but I would be honest with him and let him know when I wasn't feeling well.
Day 5 – Them bones, them bones
Up until Wednesday night I had felt fine bar feeling tired and drained with a few pains and aches (more like a stiffness). On Wednesday night I started getting stronger pains in my lower back. When I got into bed these really started to feel like a gripping pulsing pain. It was a strange sensation – the pain was concentrated in my lower back but pulsing through my body. It gave me a flash back to labour pains.
The pains surprised me – I was expecting bone pain on Sunday and Monday after the injection so by Wednesday I thought I had gotten away with it. Adrian rang the hospital just to double check this was normal and expected which put me more at ease. I had taken neurofen plus and was told to take paracetamol with it. The painkillers did the job and the pain died down after 15minutes. I took them twice on Thursday (morning and night) but haven't needed them since.
Day 6 "Hello Nausea"
On the morning of day 6 I went for a lovely walk and felt good but as the day went on I started to feel tired and in the evening nausea set in for the first time. I had been given tablets in the hospital to take if I needed so I took one and waited for relief which didn't come. Instead of getting ready for college I ended up on the bathroom floor, head over the toilet bowl cursing the nursing staff (sorry I take it back!!).
Now this is a position I have been familiar with in the past (from the days I had a social life and both my pregnancies) but they had promised me in the hospital that I wouldn't end up here. I managed to get myself to college and felt ok for the rest of the night. I have since learned that the anti-nausea tablets work best when taken to prevent the nauseous feeling rather than to stop it after it's kicked in so I have been taking 1-2 a day since with no nausea.
From day 7 onwards the bone pain and nausea were gone and I have felt fine except for the fatigue. All in all I have to say it went better than I expected. I know a lot worse has yet to come and each round will be tougher as my body and immune system are already weaker but I have also already learned things that will help me next time and I'm sure I will continue to figure it out and muddle through!
One down, five to go!!!